Release Note
February 2023
US Region
H5P.com infrastructure
Database upgrade
A database upgrade might lead to some write operations failing, but we expect less than 15 seconds of downtime.
Cache upgrade
An upgrade of one of the cache components used by the Live engagement tools. No downtime expected.
Performance improvement
Changed the way the H5P JavaScript and CSS is served. This should improve the performance when authoring and viewing H5P content.
LTI / LMS improvements
Basic LTI 1.3 support
Basic LTI 1.3 is a feature that integrates H5P content with your learning management system (LMS) for easier access to H5P content and reports within the LMS.
It streamlines the process for authors to create and edit content and for learners to view their reports and grades.
Currently, this has only been tested in Canvas
Canvas SpeedGrader
Improvements for smaller screens when viewing H5P reports through the Canvas SpeedGrader.
LTI user confirmation feature (Canvas)
The LTI user confirmation feature is no longer triggered when upgrading from LTI 1.1 to LTI 1.3.
Content types
Documentation Tool
Previously, it was not possible to download the docx file on iPad. This is now fixed.
Flashcards
Added possibility to randomize the cards through a new setting in the Flashcard authoring tool: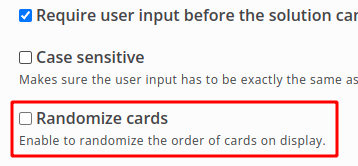 Accordion
Fix word-wrap in accordion headers.
Images
Fix HTML encoding for alt and title attributes.
Question Set
Question set now supports adding the Image choice content type. When authoring Question Sets, you'll now find Image Choice as one of the question types you can add: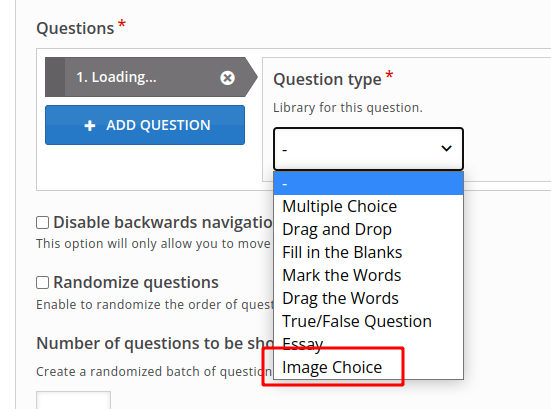 Below is an example of a Question Set containing two Image Choice tasks
Did you know that Image Choice also will become available inside Course Presentation and Interactive Video in a later release?
Accessibility improvements
Changed the color (from grey to blue) of checkboxes when using MS Edge
Improvement for the attempts bar when resizing
Documentation tool: Fix "Add goal" button not accessible for keyboard users
Bugfixes
Fill in The Blanks:

Fixed answers counted wrong
Fixed answers surrounded by nbsp

Branching Scenario: Fixed resetting media controls when navigating back
When adding collaborators to large hierarchical folders, some users experienced timeouts. This has now been fixed
SSO: now is being used when not logged in user is visiting the direct link to content
Payment: fix so that people can resubscribe after they have cancelled their subscription.
Multiplayer: Side-by-side button was missing a label when another language than English was used.
Other changes
Spanish
Spanish has now been added as language on h5p.com. The preferred language can be changed on the organization level or on the users My Account page.
Did you know h5p.com already have support for French and Dutch?
Confusion report
better filtering of content
show more content per page
include new users on the mailing list
Do you know about the confusion report feature? It will make it possible for your students to give feedback, so that you can improve your H5P content.
Frontpage
Add more LMS vendors to pick from when creating trial account.
Smaller improvements for the h5p.com front pages (e.g. it now works better on smaller screens)
Inline Support
A beta version of an inline support widget is made available for some organizations.
Non-visual
Improved logging and monitoring
Preparations for displaying account statistics
LTI 1.3 launch: given_name and family_name is now required
Audio recorder: update underlying JavaScript library
Links in content types: Change default protocol from http to https.