We are moving away from Basic LTI due to it not being compatible with common LMS features such as course copying. We recommend that all H5P.com users ensure that their LTI configuration is up-to-date.
On this page we've added a section for each of the most common LMSes and how you can use Content Item Message, Deep Linking or Direct Link instead.
Canvas
If you followed our previous setup guide then you are most likely using Basic LTI. You can tell that you are if you have to pick content after saving the assignment. When using Content Item Message you get to pick content before saving. Alternatively, you can navigate to the 'Apps' section and check the 'Placements' option for your tool configuration. If there are no placements you are using Basic LTI.

So, to reconfigure the tool you actually have to add a new 'App'. Don't worry, your existing content will not stop working or disappear.
When configuring the new App select the Configuration Typelabelled 'By URL'. Fill in a Name, and use the same consumer KeyandShared Secret as your previous app. Now, for the config URL, you must enterhttps://yourorganization.h5p.com/lti and click Submit(remember to replace "yourorganization.h5p.com" with the actual H5P.com URL for your organization). The new App will automatically be set up to use content Item Message and you can verify this by checking the placements for the new configuration entry.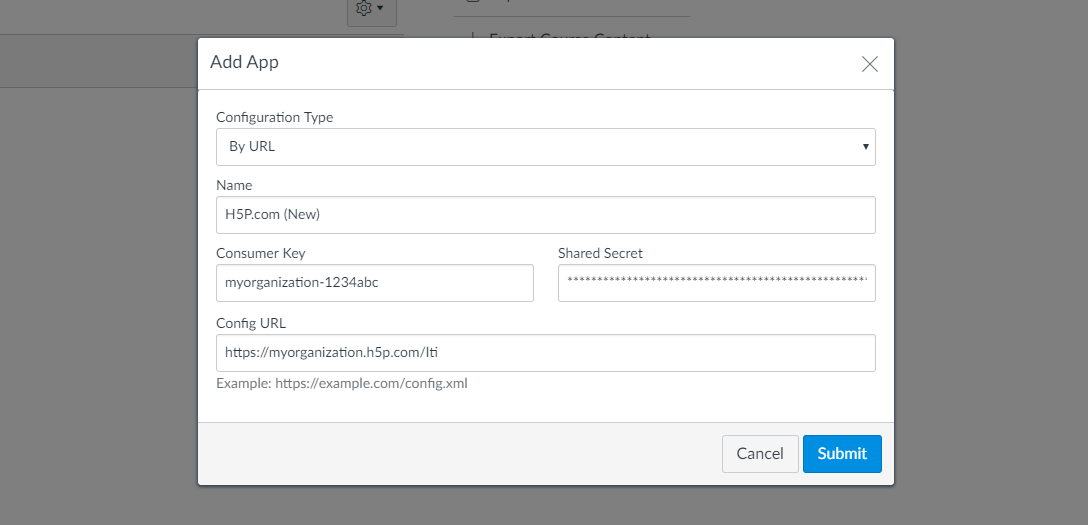 You can also test the addition of an External Tool to an assignment, you should see the new configuration there.
At this point, you are ready to Delete the old tool configuration. The existing content will automatically start using the new configuration. But do note that content inserted using Basic LTI will need to be reinserted for features such as course copying to work.
Also, feel free to check out our updated guide for setting up H5P.com in Canvas.
Brighspace
If you've followed our previous guide for setting up H5P.com in Brightspace you should already be using Content Item Message. You can verify this by checking that the remote plugin type equals "Insert Stuff (CIM)".
Blackboard
If you've followed our previous guide for setting up H5P.com in Blackboard you should already be using Deep-Linking. If you're still getting a warning, please double-check check your tool's placement type is set to Deep-Linking.