When users are launching H5P.com through LTI, user accounts are automatically created on h5p.com. But, there's no mechanism in LTI to remove these users. This can be problematic, especially for student accounts, since they typically are students only for a limited time. To help manage user quotas, H5P.com offers a feature that automatically archives inactive users. The default setting is to automatically archive:
Learners after 30 days of inactivity
Authors after 90 days of inactivity
Do note:
If an archived user launches H5P.com through LTI (LMS), the user account is automatically restored.
Superusers and Administrators will never be automatically archived
The number of days of inactivity can be changed, or this feature can be completely disabled. Below are the steps to change this setting:
Log in as an Administrator
Click on Manage Organization
In the left panel, click Settings
Expand User settings, and you will see the following: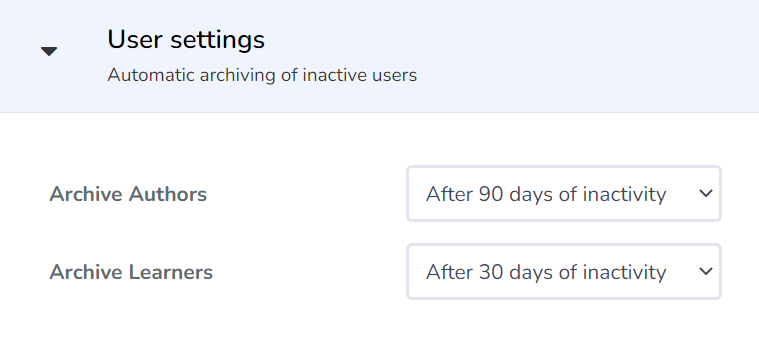 Do the necessary changes and click Save settings.