Sharing using LMS:
If you are not using H5P inside an LMS supporting LTI you always can publish content and embed it. Below is the tutorial on how to do that.
Managing Content
In addition to all the features of H5P, H5P.com allows authors to create a repository of H5P content.
Initially, the content is organized in folders and may be sorted by authors, last created, last updated, and more.
Click the "New folder" button to create a new folder

Click on a column name to sort ASC or DESC. Click on an arrow next to a name to pick criteria to sort by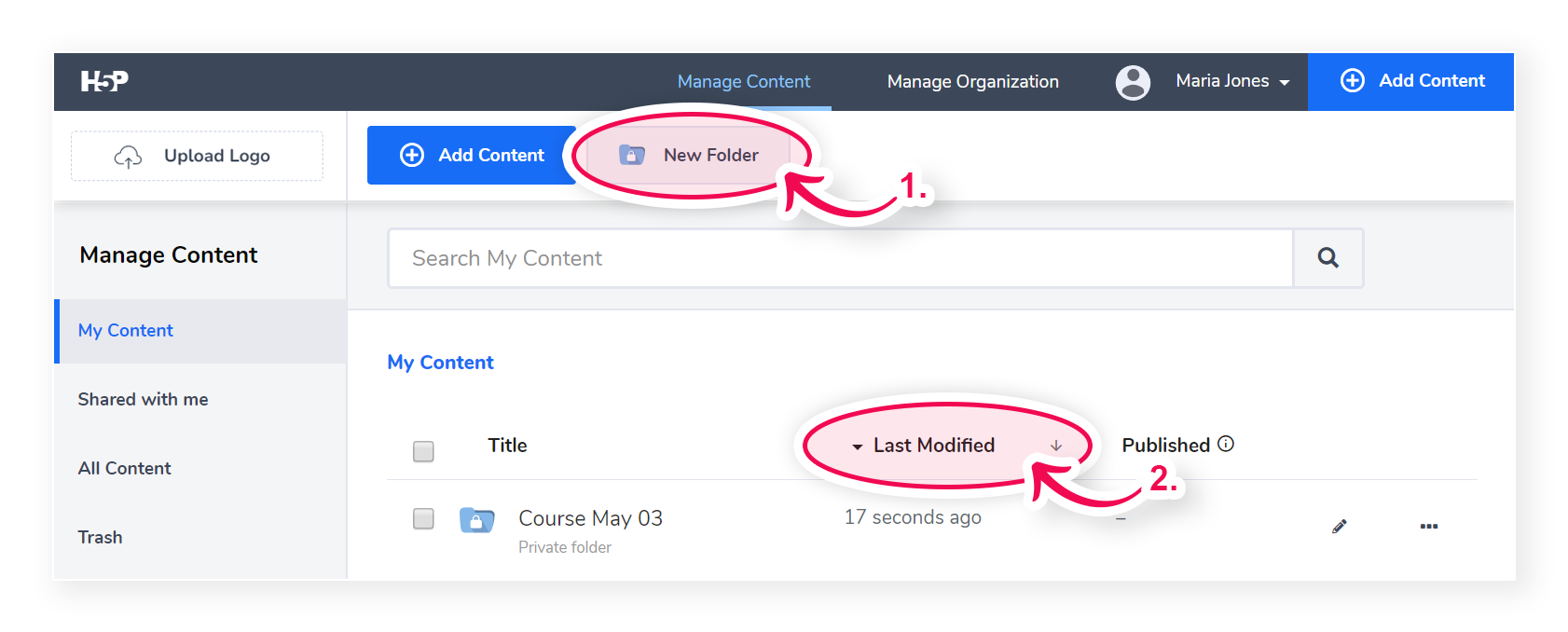 Publishing settings
The content has three publishing options:
Unpublished
The content can't be inserted into an LMS and is also unavailable from the outside. Only logged-in authors with access to the content in question can see it.
Protected
Protected content may not be accessed by the public, even if the user has a direct link to the content. It may be inserted into an LMS though and seen by anyone with access to the LMS page it is inserted in.
Public
The content can be embedded anywhere and anyone with the link to the content can see it.
By default, content is protected. To set publishing settings, click "..." next to a content item and click "Publish". You can use bulk actions to set publishing settings for multiple content items.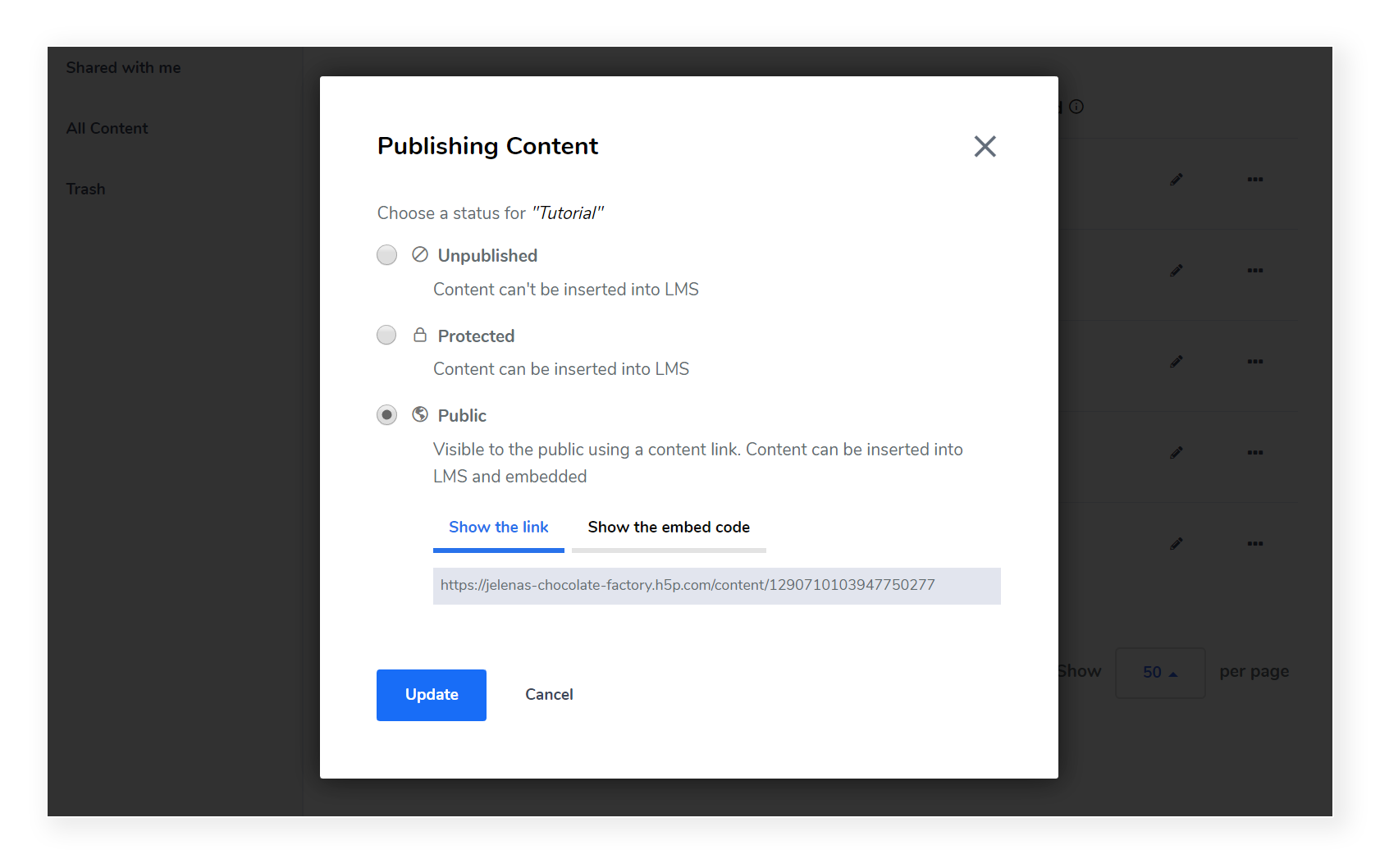 When publishing settings are set to public, you will get the content link or the embed code.
Content link: to share content with anyone
Embed code: to embed content on another site
Content Sharing
You can share content in two ways:
Sharing with the entire organization(everyone can see and clone)
Adding collaborators (giving specific users editing permissions)
To access the sharing settings, click the "Share" option next to a content item (or use bulk actions if you want to share multiple H5Ps)

You will get a popup like this: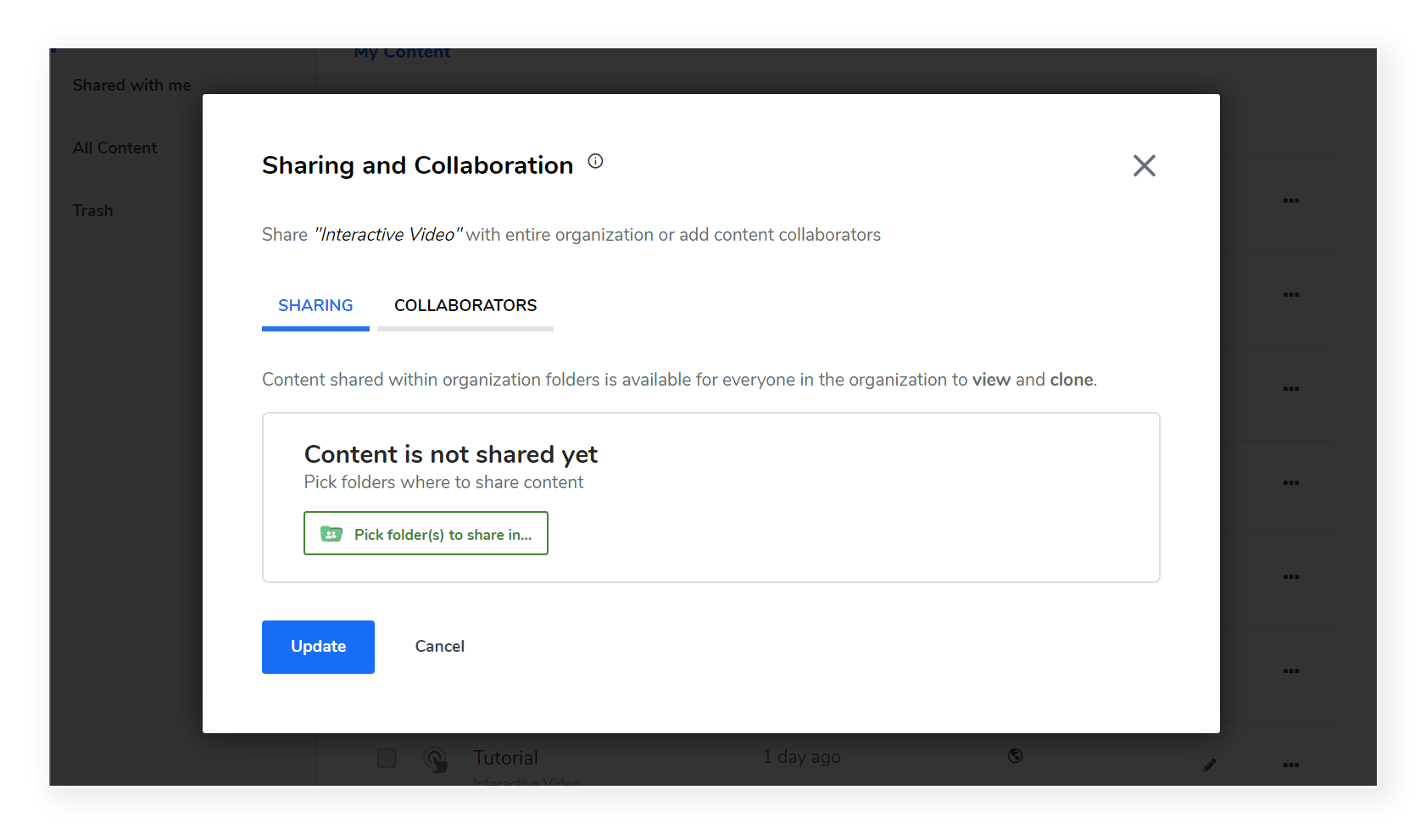 1st tab is for sharing content with organization(only for view and clone) and second for adding collaborators(view, clone and edit)
Adding Collaborators
Collaborators are users who have permission to edit your content. To add a user as a collaborator, click the "Collaborators" tab within the "Sharing and Collaboration" popup. You can search for a user by typing the name or email address. Only existing H5P.com users can be added as collaborators.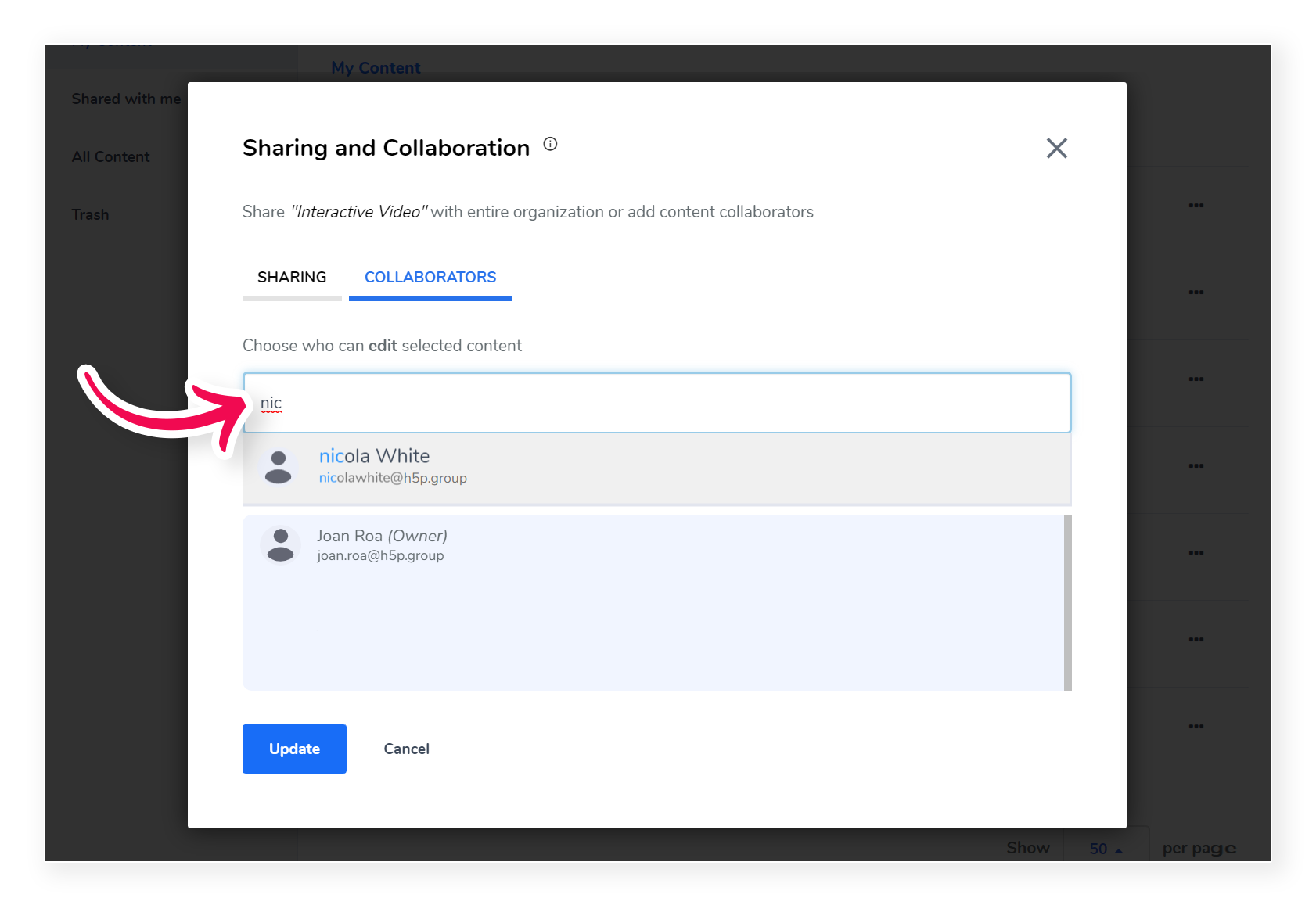 Changing Owner
Besides adding collaborators, it is also possible to change ownership of a content or a folder (not an organization folder). To change the owner, click on the three dots (...) on the right side of the content and click on "Assign Owner" and type the new owner in the pop-up screen. If you want to keep the current owner as a collaborator, it is possible to add it by clicking "Keep the current owner as a collaborator".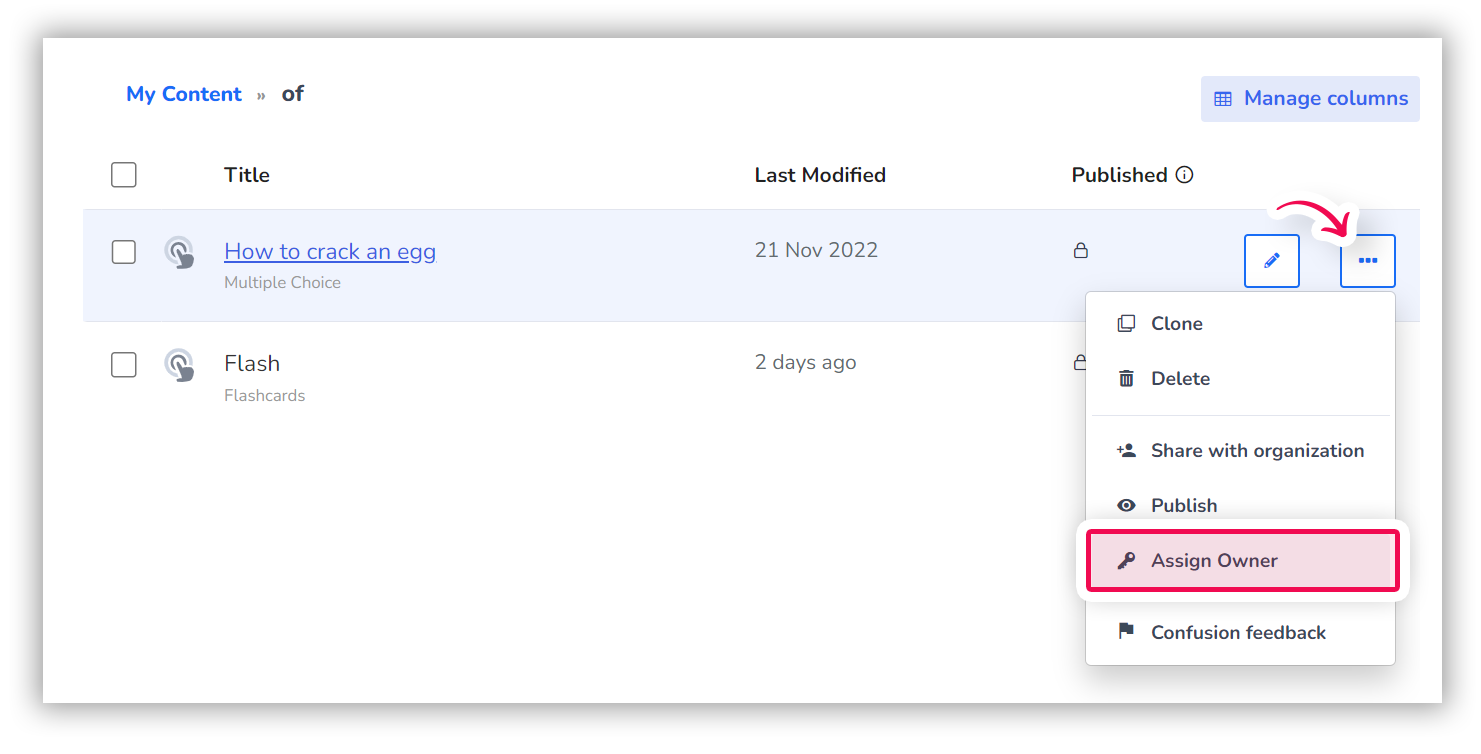 Organization folders structure
Content shared with the entire organization is available for everyone to view and clone. Content is shared inside organization folders but is also available in its original place for the author. Before sharing content with the organization we advise creating an organization folder structure so it is easier to find content for everyone.
To create organization folders:
Click the "All content" tab and
Click "New organization folder"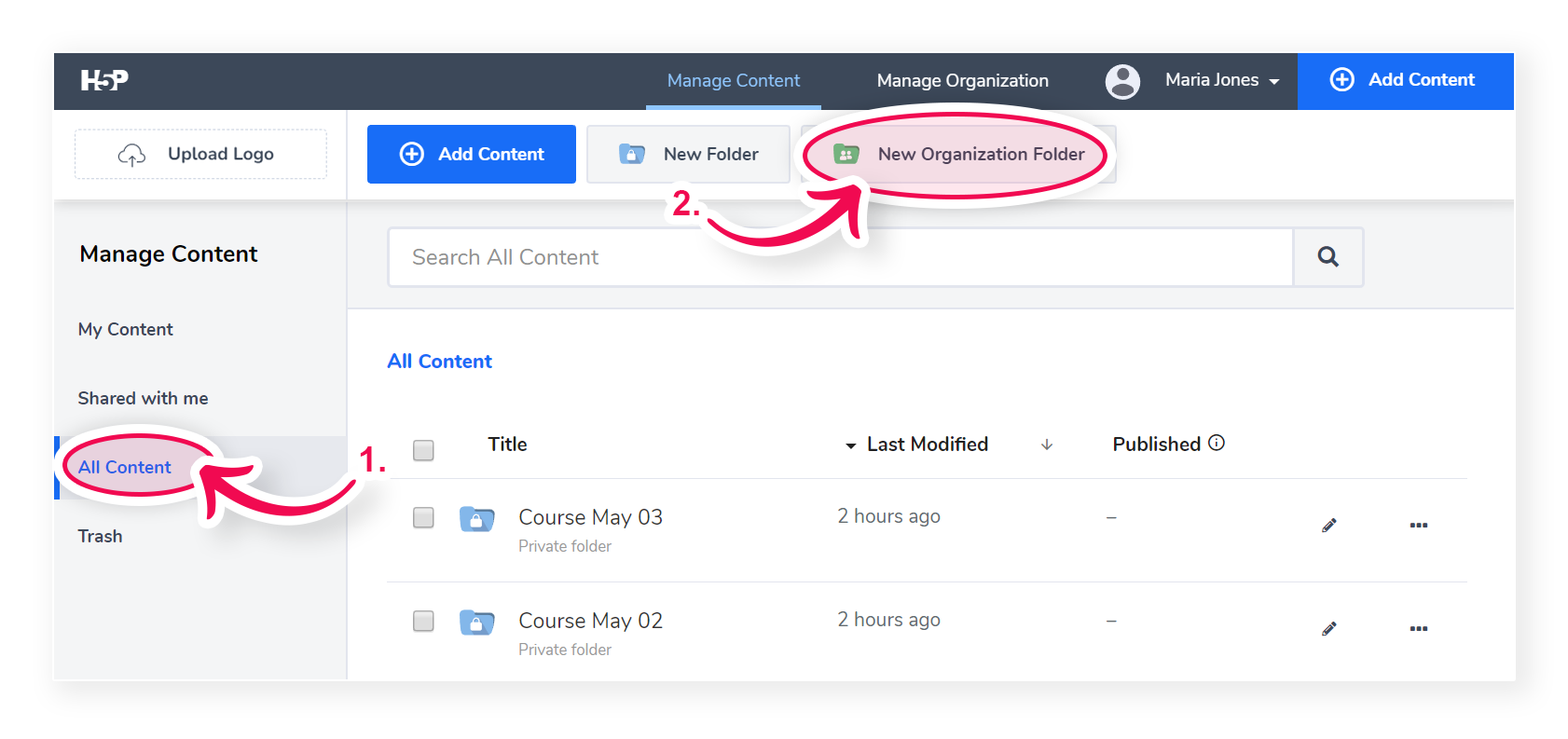 Sharing with organization
To share a content item with the organization, click the "Sharing" tab within the "Sharing and Collaboration" popup. Pick a folder where you want to share content. You can share content within multiple folders. Shared content is available for everyone inside the "All content" tab.
Note: Shared content is just a reference to the original content. If you make a change to the original content, changes will be visible to everyone who accesses the content.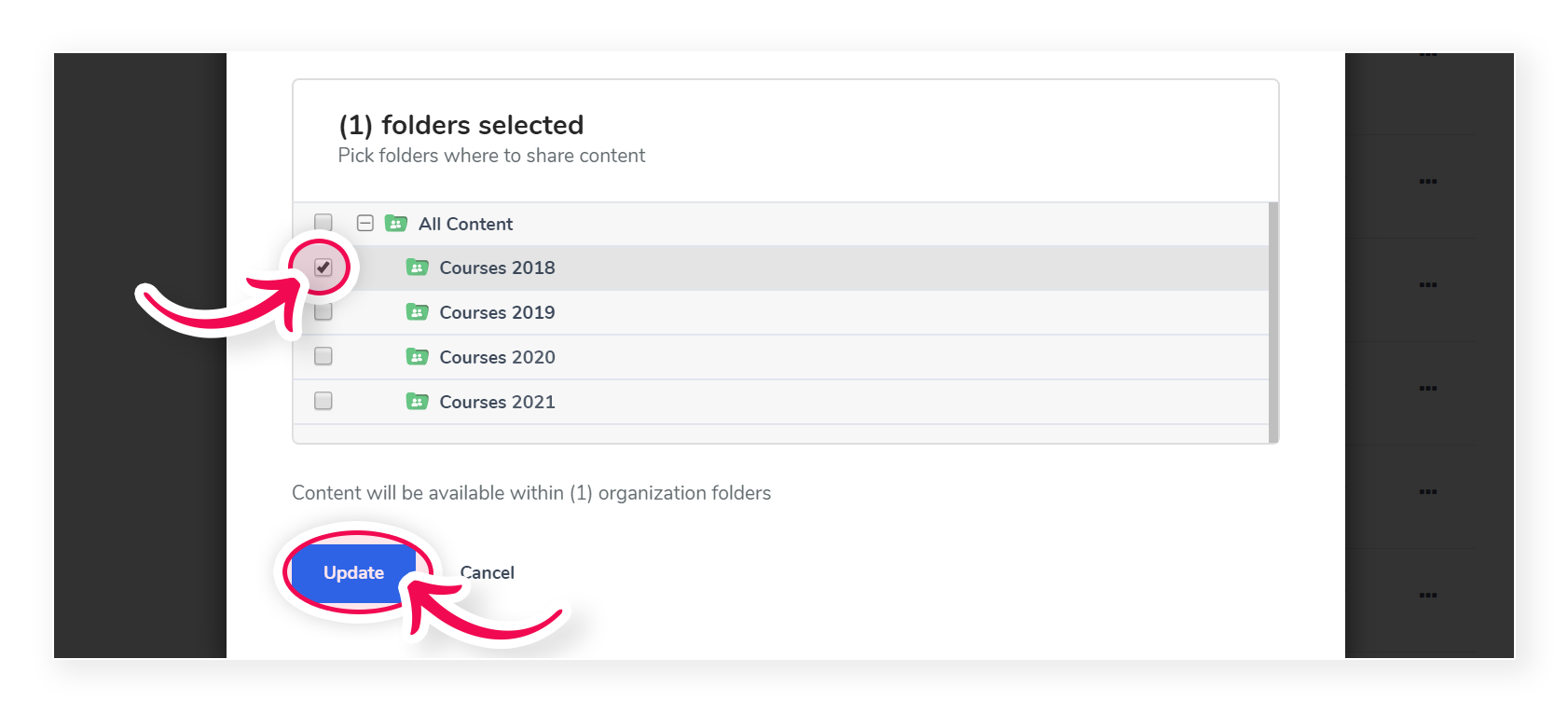 All users can access shared content inside the "All content" tab. There they will see the list of all organization folders and the content that is shared is marked with a green folder next to the name.